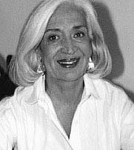 It is with great sadness that we note the passing of author Kuldip Gill on May 10, 2009, in Abbotsford at the age of 75. Gill was a contributor to our 2004 Mansfield collection Red Silk: An Anthology of South Asian Canadian Women Poets (eds. Rishma Dunlop and Priscila Uppal). She had recently authored Valley Sutra, a collection of poetry forthcoming from Caitlin Press in fall 2009.
Kuldip Gill was an active member of the B.C. writing community and we had the privilege of meeting her during the many events in Toronto and Vancouver when Red Silk was launched. She was a gracious and elegant woman who was passionate about life.
Gill was born in Faridkot District, Punjab, India, in 1934. She immigrated to Canada at age five and attended school in the Fraser Valley. She worked in the forestry and mining industries for 20 years and then received her undergraduate and graduate degrees in social anthropology from the University of British Columbia. She also received an MFA in Theatre, Film and Creative Writing from UBC and was the recipient of the Norman Rothstein Memorial Scholarship at UBC in recognition of scholarly achievement.
In 2005, the University College of the Fraser Valley bestowed Gill with an honourary doctor of letters (D.Litt). Gill taught at UBC, Simon Fraser University, the Open Learning Agency and the University of the Fraser Valley. She served as the president of the Immigrant and Visible Minority Women of B.C., and spent time on the boards of the Vancouver YWCA and the Vancouver Chief Constable's Diversity Advisory Committee.
Gill's first book, Dharma Rasa (Nightwood Editions, 1999), intertwined English and Punjabi, life in Canada and life in India, past and present, myth and imagination. It won a B.C. 2000 Book Award and received much acclaim. Gill also wrote short fiction, non-fiction and reviews of poetry and fiction, and served on the editorial board of Prism International and the advisory council of Event.
Friends and colleagues speak of her talents and her generosity in sharing her time to support others. She is remembered for her grace, generosity, compassion and activism. She was beloved to her students and a mentor to many young writers. She will be missed.
We include here two poems by Kuldip from the Red Silk anthology. The last line of "Four O'Clock Tea at Harrison Springs Hotel" inspired the title of our introductory essay for Red Silk, "Travelers, like us." The second poem, "Almost a Glosa, for Jim," was written for her husband of 44 years, Jim McIntosh.
– Rishma Dunlop and Priscila Uppal, Editors, Red Silk: An Anthology of South Asian Canadian Women Poets
Four O'clock Tea at Harrison Hot Springs Hotel
The chairs leaned up against the glass table
covered by an opaque white umbrella
the patio empty except at our window
where we sit over cups of tea and a square
of chocolate cake clinging on the saucer's edge.
A glass globe hangs outside and is
suddenly assailed by a hummingbird—
No! There are at least three, and one
hovers, waits its turn at the sweet red
water blossoms. I am reminded of Delhi,
the Uberoi hotel, tea on the grounds, the white
and red turbaned waiters bringing trays of
tea and thin cucumber sandwiches as we sat
in the shade along the edges of the lawn.
When I was four, and seven twittering
birds landed nearby, my mother
explained they are called satht-bai—
the seven brothers, since they travel as
a small flock. Travelers, like us.
Almost a Glosa—for Jim
The darkness lifts, imagine, in your lifetime.
There you are—cased in clear bark you drift
Through weaving rushes, fields flooded with cotton.
You are free. The river films with lilies,
—Louise Glück, "The Undertaking"
Did you imagine how far we'd travel? Us.
The day we met, sitting across the table
from each other at Moishe's? You across
from her, and me from him. They talked.
We smiled, then you called. At that time
I doubted anyone could be so kind. Imagine.
We are wont to pull in against the tides.
But, above that we've managed to
undertake us. Our lives. See—shapes shift.
There you are—cased in clear bark you drift
along.A hot sun blazed through windows of a blue buick.
Miles of green scent rising from lines of rutted furrows
seeped up from the ground into the car.
From somewhere—the synapses or amygdala,
came the call of memory. I knew it—the smell acrid,
nostalgic. My mother's hands full of white cotton.
She walked in, vanished, reappeared, through unripe
recall. Plato's tabula abrasa. Now in the valley
near San Jose, or was it Fresno? Back in Faridkot?
Through weaving rushes, fields flooded with cotton.
You are free. The river films with lilies, the far bank
shallow. The chortling stream flows over white
rocks, grey flecked granite. Hard and unforgiving
though they seem. A place to dangle our feet and sit
in wonder. It seems that we have come far, near
to be in this place. The peace. I have survived my life.
Drive on, it will be hours yet before we stop to rest.
The road winds down river banks, edges of arroyos.
There, see? The moon's long rays on water frills.
You are free. The river films with lilies.