L aSalle, Ontario, is exactly the kind of buttoned-down town where you'd expect a festival of burning sculpture to have a snowball's chance in hell when it comes to finding an audience. — Collapse
Luckily for the Fahrenheit Festival of Fire, crashing and burning in a small town constitutes an unqualified success. The festival marks the one night a year LaSalle lets its hair down and admits it's cool to burn stuff to the ground. Especially art.
Armed with camera and notebook and acting in my official capacity as a newspaperist (I resist the title journalist), I was circulating among the more than 2,000 people who crowded the weed- and wildflower-choked hills surrounding a huge water-retention pond on the 189-acre grounds of LaSalle's Vollmer Culture and Recreation Complex for the annual night of municipally sanctioned arson. Artists from across Ontario and Michigan were on hand to take a torch to their creations of wood and straw, which were arranged like giant confections in a bakery window along a spit of land extending out into the retention pond.
Despite rampant fire dancing and flame swallowing, the Big Burn (as it's known to accelerant enthusiasts and bonfire mavens) is strangely low on the bacchanal scale; an eerily silent affair, like sitting around a big, baroque campfire—no one quite sure how to respond as sculptures that took teams of artists days to create are reduced to heaps of smouldering wreckage. It is only then that a sculpture is considered a complete work of art.
The most dynamic and beautiful fire sculpture to light up the late September night was a piece by a group of students from the University of Windsor called "Fire House" (a single-room structure built on a pontoon raft, a chair in the middle of the room). Once fully engulfed, the house was cut adrift from shore. As it burned out on the lagoon, several small vessels lit out from it and sailed quietly across the night-black surface—nothing but a faint crackling, and no one remembers them reaching the far shore, if they did at all.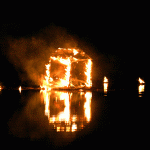 Robert Earl Stewart is the author of Something Burned Along the Southern Border, out this month from Mansfield Press.