I wish they'd had YouTube in 1787. Instead, all we have is a period illustration of a curious fencing exhibition match held on April 9, 1787, in Carlton House, England.

The fellow in the red jacket is the Prince of Wales. He arranged such matches for gambling and entertainment purposes.
It may look like a cartoon. It's not. The match was between the once-best swordsmen in Europe. A false Chevalier and a real. Both with a connection to Marie Antoinette.
To the left is 45-year-old Georges Boulogne, called the Chevalier de Saint Georges but unable to hold that honour as a mixed-race son of a wealthy landowner and a Guadeloupean slave. His father brought him to France at four, enrolled him in an elite fencing academy at 13. He was a continentally renowned swordsman by 19, a first violinist by 26, one of the first composers of string quartets, a symphony conductor by 28. Lieutenant of the Hunt for the Duc D'Orleans at the French court, he tutored Marie Antoinette in piano and became the first black freemason. Years after this match, he organized and led a military unit of 1,000 black men in support of the French Revolution, assisted by his protégé Alexandre Dumas (father of the novelist), himself also the son of a French diplomat and an African slave.
To the right is 59-year-old Count Charles d'Éon de Beaumont—soldier, diplomat and spy. The story is that, as a young man on the King's orders, he had infiltrated the court of the Russian Empress Elizabeth by posing as one of her female attendants. Later, now dressed as a man, he conducted peace negotiations in England. This new Chevalier was the Crown's Minister Plenipotentiary. A hundred thousand pounds was wagered in clubs about his gender. A decade later, Louis XV dead and him in disfavour, he was forced to return to France and to agree to live out his life dressed as a woman. Marie Antoinette provided access to her seamstress. And for the next 40 years he lived quietly with another woman, as a woman.
Toronto's Tafelmusik Ensemble and CBC both staged Boulogne's music a few years back; D'Éon has been lionized as a cross-dressing pioneer and as the subject of a popular Japanese anime series. Who won the match? Some sources say the Chevalier de Saint Georges; some say the Count D'Éon.
Jim Smith is the author of Back Off, Assassin! New and Selected Poems (Mansfield Press, 2009).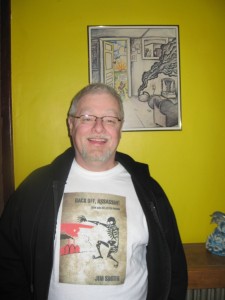 Jim Smith models the latest in fashion stylings for any self-respecting assassin. He stands in front of Robert Fones' lush artwork for David McFadden's long poem The Poet's Progress.