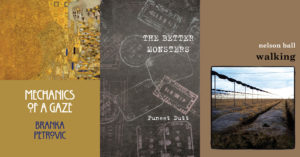 Mark the date!
Date: Tuesday, Oct. 24 2017
Time: 7-10pm
Location: Dazibao
5455, de Gaspé avenue,
suite 109 (GF)
Montréal (Québec)
Canada H2T 3B3
Mansfield is heading out on the road for our first fall launch with new work by Branka Petrovic, Puneet Dutt, and Nelson Ball. Puneet and Nelson won't be able to attend but we'll be reading from their new books and just for fun we'll be adding music and dance to the readings at this event.
Along with the Mansfield books, we'll feature a reading by Quebec author Corinne Larochelle, music by Bojana Milinov and Nebs Petrovic, and dance performances by Morgane Le Tiec and Renata Commisso. Check out the bios below. It's going to be an interesting night. Please join us!
Poetry:
Branka Petrovic's sophisticated debut collection delves into the life and work of Austrian painter Gustav Klimt, exploring his muses, the male gaze, and the eroticized female body. Her work was long-listed for the 2012 and 2015 CBC Poetry Prize. In 2016, she won second prize at the Great Blue Heron Poetry Contest. http://bit.ly/2zc5qxM
Nelson Ball is a poet and bookseller living in Paris, Ontario. He has worked as a labourer, chauffeur, clerk, seasonal forest ranger, record store clerk, and janitor. From 1965 to 1973 he ran the legendary Weed/Flower Press, publishing mimeo editions of early books by Victor Coleman, Carol Bergé, David McFadden, bill bissett, bpNichol, and many others. He is the author of more than 40 poetry books and chapbooks.
Puneet Dutt received her MA in English from Ryerson University. She is the author of the chapbook PTSD south beach (Grey Borders Books), which was a Finalist for the 2016 Breitling Chapbook Prize (Phantom Books). Her work has been published in a number of journals and in Imaginarium 4: The Best Canadian Speculative Writing. She was born in India and raised in New Jersey. She now resides in Toronto with her husband, where she is an editorial board member at Canthius and a creative writing workshop facilitator with the Toronto Writers Collective. She can be found online at puneetdutt.com.
Corinne Larochelle enseigne la littérature au collège de Maisonneuve. Elle a publié quatre recueils de poésie au Noroît, dont Vent debout (2007) et Femme avec caméra (2011). Son premier roman, Le parfum de Janis, a paru au Cheval d'août à l'automne 2015.
Music:
Born in Belgrade, Serbia, and established in Montreal, Bojana Milinov pursues her career as a soloist, chamber musician with String Quartet Voxpopuli, Quatrouvailles and as an orchestra musician collaborating with Les Grands Ballets Canadiens de Montréal, Orchestre symphonique de Montréal, Orchestre de chamber I Musici de Montreal and many more.
Nebs Petrovic is a multi-instrumentalist, composer, producer and synth nerd based in Montreal. He runs a synthesizer YouTube channel called Once Upon a Synth (http://onceuponasynth.tv/) and produces electronic music under his alias Citizen Park (https://citizenpark.bandcamp.com/).
Dance:
Morgane Le Tiec, a professional dancer, has worked with internationally acknowledged companies such as: La la la Human Steps, Montalvo Hervieu and Ballet Jazz de Montreal and is currently dancing for Compagnie Marie Chouinard. Off-stage, she pursues her choreographic endeavours.
Renata Commisso comes with 10 years of professional dance experience, working with world renowned choreographers and companies. Currently, Renata dances for Les Grands Ballets Canadiens. Besides performing, Renata is exploring choreography, her most recent works; 'Brain Game' for A Suivre 2016, and a dance film I OUT YOU IN, a collaboration with Morgane Le Tiec and Paolo Santos.