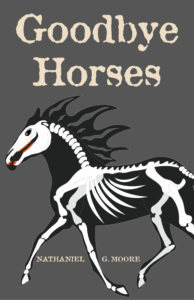 Nathaniel G. Moore
ISBN 978-1-77126-184-5
$17.00 CDN/USA
106 pages
My mind is threadbare
on your subject, Lesbia, ruined
by our ignoble encounters,
the power of your devotion.
I can't wish you a good day,
though you are good,
and if you were not so,
I'd still want you.
In Goodbye Horses, Nathaniel G. Moore reanimates the lion's share of Catullus' surviving poems in an absorbing homage to the beloved romantic, his world, the friends he loved, his style (elegy, anaphora, hyperbaton), the myths he riffed on (Attis, Laodamia and Protesilaus), the writers he admired (Sappho, Cicero) and the family he left behind.
"Goodbye Horses is dexterous and wild as a mustang—drop what you're doing and enter its mad gallop."
Cornelia Hoogland
"Piss and affection," eh? Yessum, that's love-vulgar, low-down, Latinate, highfalutin. In these epigrams, these epiphanies of language and/or lingo, Nathaniel G. Moore goes to town with the Romans, dives into bed with the Romans, gets dirty with the Romans, serenading harlots and calling hell down on rascals, with the temperament of Catullus, Ovid, and Virgil, and he doesn't give a damn for classical niceties. Goodbye Horses is a helluva dredging of the Latin canon. Hear the scalding cold of a sweet bitch's words confront a sissy jerk's eloquence that's only educated hissing. Herein is Poetry: no unwilling song, no wimpish whistling, but oodles of blues, edifying, defying Cassandras with wandering limbs and thundering tongues, or, rather, deifying em…. And spitting at those test-rat imperialists, those Romeos with unwholesome genitals….
George Elliott Clarke