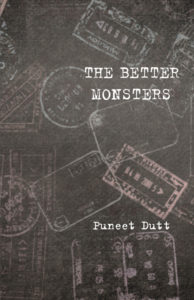 Puneet Dutt's The Better Monsters has gotten tremendous acclaim for a first book. Dutt was nominated for the Raymond Souster Award, though that award ultimately went to Karen Enns for her book Cloud Physics. The Better Monsters was also nominated for the Trillium Award and we'll find out tomorrow whether or not it wins. Either way, it is a winning book, worthy of the acclaim, and to celebrate, we're extending our 20% discount until the end of the month.
In advance of tomorrow's award ceremony, Puneet Dutt will be joining the rest of the Trillium nominees tonight at the Toronto Reference Library for a public reading. Doors open at 6:30 and the readings start at 7 pm. It's a stellar group of writers and well worth checking out.
Here's a little video interview with Puneet to give you a taste of her interests and concerns.