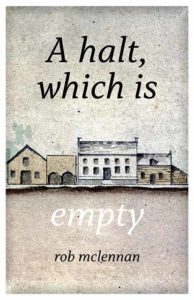 rob mclennan
ISBN 9781771262200
$17.00 CDN/USA
132 pages
What do we know of history, and what, if anything, does it have to do with the present? Prompted by the author's 2011 move from Chinatown to McLeod Street, in an area once known as the Village of Stewarton, A halt, which is empty is a series of small studies, each focused on an idea, whether Ottawa's greenspace, the early history of Bytown, contemporary Bank Street construction or the War of 1812. In these poems, mclennan thrills with an acrobatic array of syllables, sound, rhythm and meanings collaged into an affect of serious play. This is writing not meant to be easy or safe, but fluid, fluent and fun.
"Panting," opens rob mclennan's latest investigation of the boundaries between the personal and the public, the contemporary and the historical, call and response, knowing and unknowing, and the poems walk a halting, panting line that trembles between collapse and explosion. The result is a thrilling "Act of hovering / distilled."
— Andy Weaver, author of This
The joy of the book is how it does not soothe. With mclennan's agile, and sometimes playful comic pivots, you can't predict the thrust of a poem, or line, or phrase. These are alert poems that jump into the middle of themselves with the intimacy of intimate conversation.
—Pearl Pirie, author of the pet radish, shrunken
mclennan's writing is simultaneously human and disruptive. rob assembles improvisational details of family history, geography, community and affixes them to the page with a unique kind of material assembly where punctuation is an irreverent, elastic glue.
—Stephen Brockwell, author of All Of Us Reticent, Here, Together