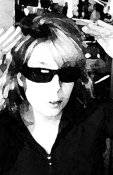 Marie-Ève Comtois is an administration officer at the hospital Hôtel-Dieu du CHUM in Montreal. She bikes and hikes every day and is preparing a new black-and-white magazine that explores short picture stories for those who do not have time to read. Her first book, Le Windex de Narcisse, was published in 2007. My Planet of Kites is a translation of Je Te Trouve Belle Mon Homme, published by Écrits des Forges in 2012.
THE TRANSLATORS
Stuart Ross is the author of about fifteen books, most recently A Hamburger in a Gallery (DC Books) and Further Confessions of a Small Press Racketeer (Anvil Press). He lives in Cobourg, Ontario.
Michelle Winters' fiction has appeared in Taddle Creek, Dragnet, and This Magazine, and has been shortlisted for the Journey Prize. Michelle works as a translator in Toronto.