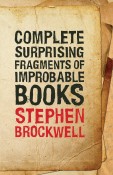 It's nice to see Complete Surprising Fragments of Improbable Books by Stephen Brockwell getting a little love from Arc Poetry Magazine.
According to Jesse Patrick Ferguson the book "is engaging both in content and craft," and we couldn't agree more. He also says "Perhaps the highest compliment that can be paid to Fragments is that it's easy to imagine enjoying the complete (fictional) works from which Brockwell has excerpted these small selections."
We'll pass these thoughts on to Stephen and ask him to get writing because we'd like to see more too!